The senior prom has to be one of the biggest events ever when you are nearing the end of your school days, and maybe apart from your exams obviously, it is one of the most important. After the prom everybody will be going their separate ways and you're never going to see the teachers ever again really, and whether you love or hate school, the prom is the perfect way to say goodbye. And everybody knows that the prom means that you have to the best and most beautiful dress that you've ever had in your life, so it's important that you get shopping in advance!
There are a few things to consider when you're buying your prom dress. The first is a practical one; most boutiques and upmarket dress stores will keep a list of which girl has bought a dress for which school to avoid girls turning up in the same dress which would pretty much be nightmare! So if you've seen your dream dress in a boutique, get in there early! The next is whether or not your school has a dress code in place. In the UK we're pretty lucky in that we don't tend to have such strict rules in place as they do over in America, but do check just in case! The last thing is don't be afraid to hit the online stores since there's loads of choice even if you're on a budget and a huge range of sizes too. If you are still searching for your perfect prom dress, check out these ones to help give you some ideas.
Where would we be without ASOS?! This huge online brand is pretty much there for us no matter what we need it for, and the same goes for prom dresses. If you do decide to get your prom dress from ASOS, mention it so that people can avoid buying the same one! For a fun and flirty look that'll let you party and dance the night away with ease and that will look great with a tan, this gorgeous yellow and white striped mini prom dress is ideal. The front bow really gives this dress a designer feel, and nobody will ever guess that you got this from ASOS! Even better, at only £65, this dress comes in a comprehensive number of sizes from UK 4 to 18.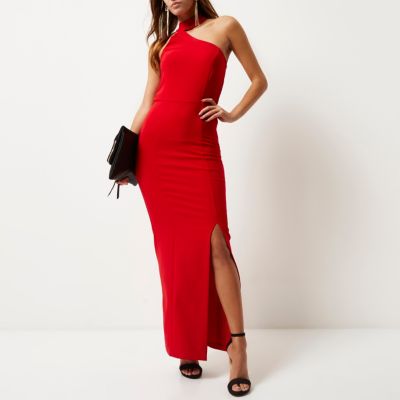 River Island is one of our favourite high street brands and they sell some gorgeous dresses that are both eye catching and fashion forward and if you want to stand out from the crowd then forget the tulle in favour of this vampy one-shoulder red choker dress. With some tousled long hair and strappy black sandals like shown in the image you can feel like a million dollars without having to raid your piggy bank; this beautiful dress costs just £60 and is available up to a UK size 18.
For a beautifully romantic and elegant dress that will have you looking and feeling like a goddess, then this beautiful golden-nude ruched maxi dress is a show-stopper. With a nipped in waist skimming down to a simple flowing skirt at the bottom this dress is for the prom queen! Available up to a size 16, it is a complete bargain at only £35 too; to help you get an even better deal, check out a Missguided discount code. This dress will look good with any hair style, and with its classy neutral shade, you can accessorise it with some sparkling jewellery.