So you've probably got your shoes and your dress all sorted out by now and you may even have you hair appointment booked, but have you decided yet what type of hairstyle that you would like to rock for your prom. It's going to be one of if not the biggest event that you've ever attended so it's important that you look and feel great and that you're all ready to have a great night out with your friends. A great hairstyle can really help you with that and can make you feel like a million bucks and it can even give that incredible Cinderella moment too. If you haven't already, then you should be investigating different styles so that you know exactly what you want from your hair stylist. If possible, it is always wise to have a test run too in order to make sure that you like the style and is suits you too. To give you some inspiration for prom hairstyles, check out our favourites below.
Braids have been huge news in the fashion world for the last few seasons now so why not use them as inspiration for a romantic and pretty up-do that will set off your dress to perfection.  This elegant up-do manages to avoid the dreaded lacquered-into-oblivion look that can happen when a hair stylist has slightly too ambitious ideas. The relaxed curls with the wide and loose braid are really a perfect princess look, and even if you are planning to style your own hair, this is one style that you can easily learn to do yourself (or get a friend to do it of course!). Even if you don't have long hair you can just forget the bun and enjoy a slightly messy yet alluring style.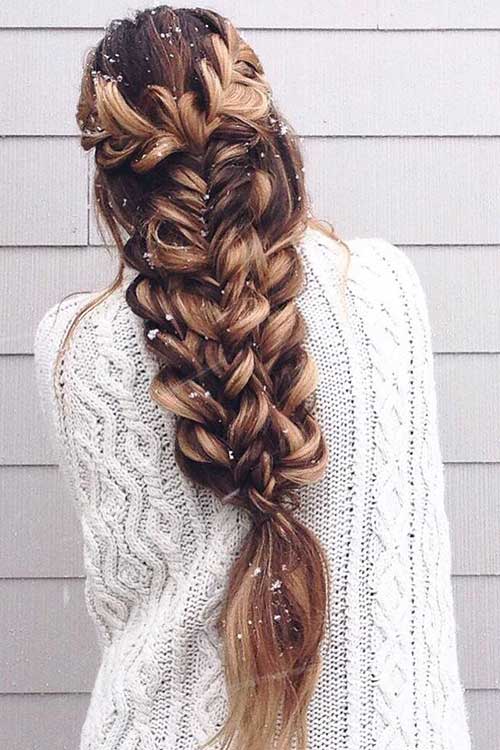 Braids really are huge news in the world of prom hairstyles, and if you have long hair, then a beautiful mermaid-esque braid is the perfect way to show your tresses off. Not only will this style keep your hair out of your face as you enjoy your big night out, but it will look on trend and absolutely gorgeous at the same time. Unless you have a supremely talented friend though, this is one style that you'll need to leave in the safe hands of a professional.
A half-up half-down style is always a flattering one and is the perfect way to show off your hair and huge loose waves and curls are timeless. Just remember to let you know your hair stylist know that you want a relaxed look with a bit of volume and you can avoid a too regimented style. This style is perfect for you if you want a low maintenance style that will still last all night. This is another style that you should, with a bit of practice and with the right tools be able to perfect yourself at home, which is ideal if you are going to the prom on a bit of a budget!