Whether you are going to your senior prom or to a friend's 18th birthday bash, aside from an amazing outfit, you will also want to invest in some gorgeous accessories that will not only enhance your look, but help you to show off your own personal style too. These days we are so lucky in the fact that you can easily pick up some gorgeous pieces that look seriously pricy easily enough from the high street that don't even cost that much. The right pair of earrings though or a gorgeous bejewelled clutch can really help to complete an outfit without breaking the bank, and since accessories go through seasonal trends just as clothes and shoes do, some new accessories can also be a great way to update an old party dress for example. If you've been looking for an excuse to buy some new party accessories or are simply lacking a bit of inspiration, then check out these gorgeous pieces right here.
Accessorize is obviously one of our absolute favourite stores for jewellery and other accessories on the high street for obvious reasons. They always have the most stunning and unique pieces at really reasonable prices, so if you are looking for something a little bit different in the jewellery line then it's the perfect place to shop. For a gorgeous bracelet that is simplistically elegant for summer with a Grecian feel, we love this gold tone open cuff bracelet with delicate sparkling pink gem details. It is a really natural piece and if you like to keep things simple, then this is the piece for you. Price: £8.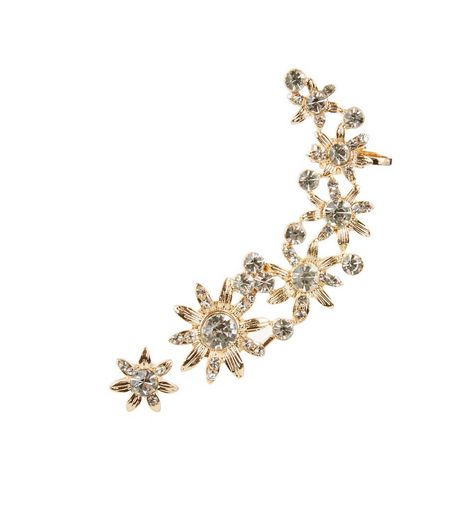 Ear cuffs have been in vogue for the last few seasons or so with celebs such as Rihanna really setting the stakes high for these cool accessories. So if you want to add a bit of interest to a party outfit, then you can always invest in a chic ear cuff from the high street. Keeping with the natural theme, this beautiful sparkling gem floral version from New Look will look great whether you are rocking jeans and a tee or a full-on formal dress. £5.99, it is big and eye-catching enough to make it into a showy piece that'll have your friends asking where you got it from!
Another huge jewellery trend recently has been chokers which are a great way to vamp up an outfit. For a bit of glamour you simply can't beat this double row teardrop diamante choker that will look fantastic with a slinky little black dress. By Love Rocks and available online at ASOS, this piece is a little bit more pricy than your average high street accessory, but it's so lovely that you should view it as an investment.
And finally the perfect party outfit features a cute little clutch for your lip-gloss, phone and cards, and this one from high street shop Matalan will do the job in the most fashionable way possible. Embroidered and bejewelled and only costing £12, this eye-catching statement piece will be the perfect bag for you on nights out!