So we've already talked about getting your perfect prom dress here and even about dreamy hairstyles for the prom here, but one thing that you still need is of course the perfect pair of prom-ready party shoes. There is no point investing loads of time, effort and money into finding the most perfect prom dress that makes you look absolutely gorgeous if you fail to get some great heels to go with it, so if you haven't already, now is the time to get out there and find your pair Cinderella!
You don't have to spend loads of money on your shoes, but saying that, you do get what you pay for. A more expensive pair may be more comfortable, so do take that into consideration. If however you are buying them to simply go with your prom dress, then go with style rather than whether or not they'll last. Read on to find out some fabulous styles for your prom right here.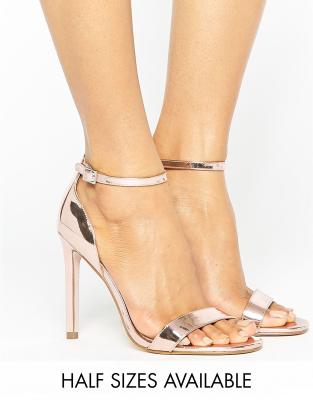 For a pair of heels that will go with your dress without stealing the show and which you'll be able to wear again and again, these classy, elegant and under-stated strappy sandals from our favourite online fashion brand ASOS are ideal. The metallic rose-gold shade is very much on-trend yet still neutral enough to ensure that the shoes are pretty timeless. Even better, this product is available in half sizes from a UK 2 to a 9, so you can really get the exact fit for your foot which will go a long way towards your comfort on the big night! These lovely shoes cost just £25 so for a neutral shoe that will go with your dress, this bargain pair is perfect.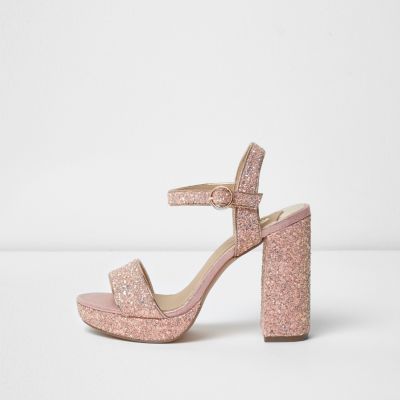 Since after all it is your prom, there is no harm in dressing a bit glam and a pair of gorgeously ostentatious shoes can make you feel fabulous. This pair of beautiful high heel platform sandals from one of our favourite high street stores, River Island, is a glittering and sparkling explosion of pink that will have you feeling like a princess. And even though you will definitely manage to elongate yourself with these shoes, thanks to the platform soul and block heel, they are surprisingly comfy and stable which is perfect for a night spent dancing away and having the time of your life. They are available in sizes 3 to 8 and cost £40.
A pair of black heels is always a classic look, but there is no reason to think that that means safe and a bit dull as this gorgeous pearled pair from Missguided prove. Especially if you're wearing a sparkling sequinned dress, these heels can really complete the mermaid look; wear your hair in loose waves and you are ready to go! Like with the River Island shoes, these feature a platform and a block heel which does make them more stable and comfortable. You don't want to be thinking how much your feet hurt as you dance and chat with friends after all. These pearly shoes cost just £32.